Principal and Founder
Mia A. Mackman has more than 20 years of beauty, spa, and wellness industry experience. Principal and founder of the industry consultancy Mackman ES, she specializes in spa and wellness consulting, strategic planning, valuation, and forecasting. She works in partnership with Hospitality Valuation Services (HVS), providing the internal and external spa-and-wellness services for HVS's global and domestic client network.
Mia has predicted some of the leading shifts in the transition of the spa and wellness market since 2004. Known for her agility, leadership, and intuitive insight, she works with Fortune 500 companies, private clients, industry groups, and global networks. She is recognized for her unique ability to predict and identify future value propositions and how to navigate, adapt, and excel in a fast-changing market.
Mackman.ES is a spa and wellness consultancy with a global network of resources and associates, dedicated to providing objective, intelligent and intuitive leading edge spa and wellness expertise.
Based in Sedona, Arizona, Mia is the founder and president of the Arizona Spa & Wellness Association. She is an Official Visiting Judge for North and South America for the World Spa & Wellness Awards. These awards are one of the leading honors in the industry. They acknowledge the excellence of care, service, and standards, aiming to inspire spas around the world, and serving to raise global industry standards. She is a member of the Global Spa and Wellness Careership Initiative, a Global Wellness Institute initiative that promotes industry growth and career development, serving as a Global Wellness Day U.S.A. Ambassador and helping spread a global message that has touched over 250 million people in over 90 countries at more than 3,000 different locations.
Mia contributes as an industry expert to international magazines, national news organizations, business reports, and private club publications. She also participates in world academic studies, wellness tourism research and is a new addition to the Hotel Business Review 2017 Editorial Board for hotelexecutive.com
Inspired by her personal journey to wellness, she formed the Arizona Spa & Wellness Association in 2012. She created this platform to accelerate and unite spa and wellness information and Arizona's professional community. Since 2012, the Association has evolved to serve a number of spa, wellness and community interests. The Association is a network platform of industry organizations, focused on information sharing, best practices and supporting Arizona's industry growth.
In her spare time Mia enjoys riding her bike, hiking through the red rocks in Sedona and spending time with her two sons. She likes cooking, reading, yoga, learning new things, spending time with friends and taking new adventures.
Expert View
Contributions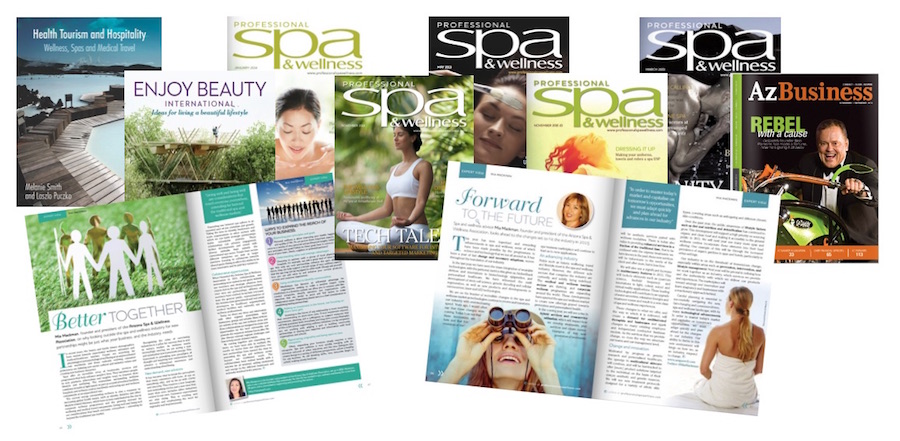 ---
Publications
Industry Insight
Capitalizing on Arizona's Spa and Wellness Arizona Business Magazine 2014
Forward to the Future, Expert View 2015 Professional Spa & Wellness 11-14
Private Club Advisor, Featuring Wellness Integration 11-14
Wellness Amenities & New Club Programming NCA 10-14
The Value of Multiculturalism Professional Spa & Wellness 6-14
International Travel Trends Feature; Enjoy Beauty International Issue 2, '14
Technology Test Professional Spa & Wellness, London, UK 3-14
2014 Spa & Wellness Trends; Professional Spa & Wellness, London, UK 1-14
Expert Interviewee for the European Commission and WTO (ETC/UNWTO) Global Health, Wellness and Medical Tourism Study 11-13
Choosing Wellness: My Journey Professional S&W, London, UK 6-13
The Value of Associations; Professional Spa & Wellness, London, UK 12-13
Health, Tourism and Hospitality By M.Smith and L.Puczko, Chapter 41.Global Wellness in Sedona, Arizona+ Costa Rica Published by Taylor & Francis 2014
A Market in Transition; Professional Spa & Wellness, London, UK 3-13
---