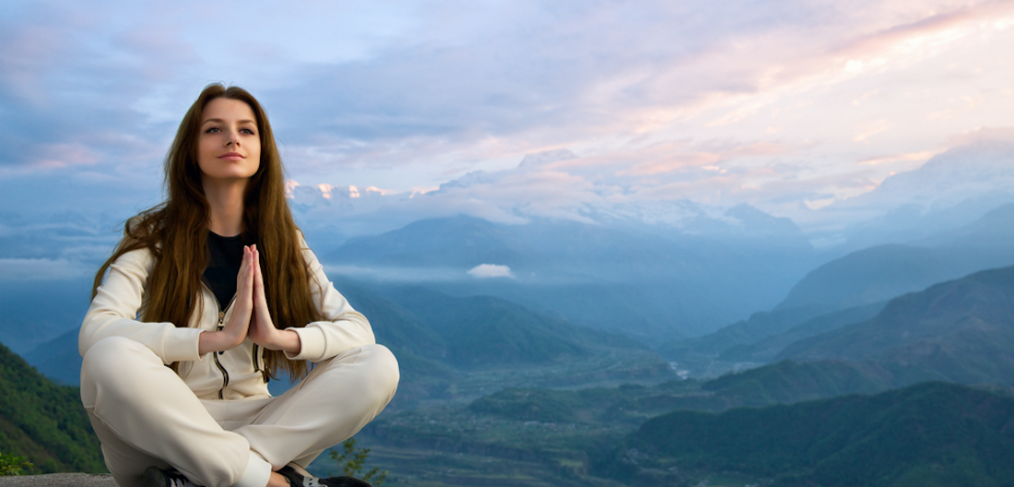 Building Intergenerational Spa and Wellness Programs and Loyalty
By Mia A. Mackman
Published by Hotel Business Review on hotelexecutive.com
Growth in travel and tourism continues to rise in conjunction with intergenerational lifestyles, shifting values and increasing wellness keynotes. Every generation has unique preferences and imperatives that set them apart and stick. Accounting for nearly half of the population, Millennials and Generation Z have considerable weight in the market share. This article examines perceived values vs. core values and the benefits of incorporating a multi-generational, multi-faceted approach to spa and wellness programming to enhance customer spend and loyalty.
Generational Overlay
The structure of the family unit has dramatically changed over the years. This has inevitably impacted families, day-to-day living, tourism and travel. The Pew Research Center (1) reported "a record 60.6 million Americans live in multigenerational households." (Figure 1) This averages to "nearly one-in-five Americans" that are living in a diverse family environment with a multigenerational overlay.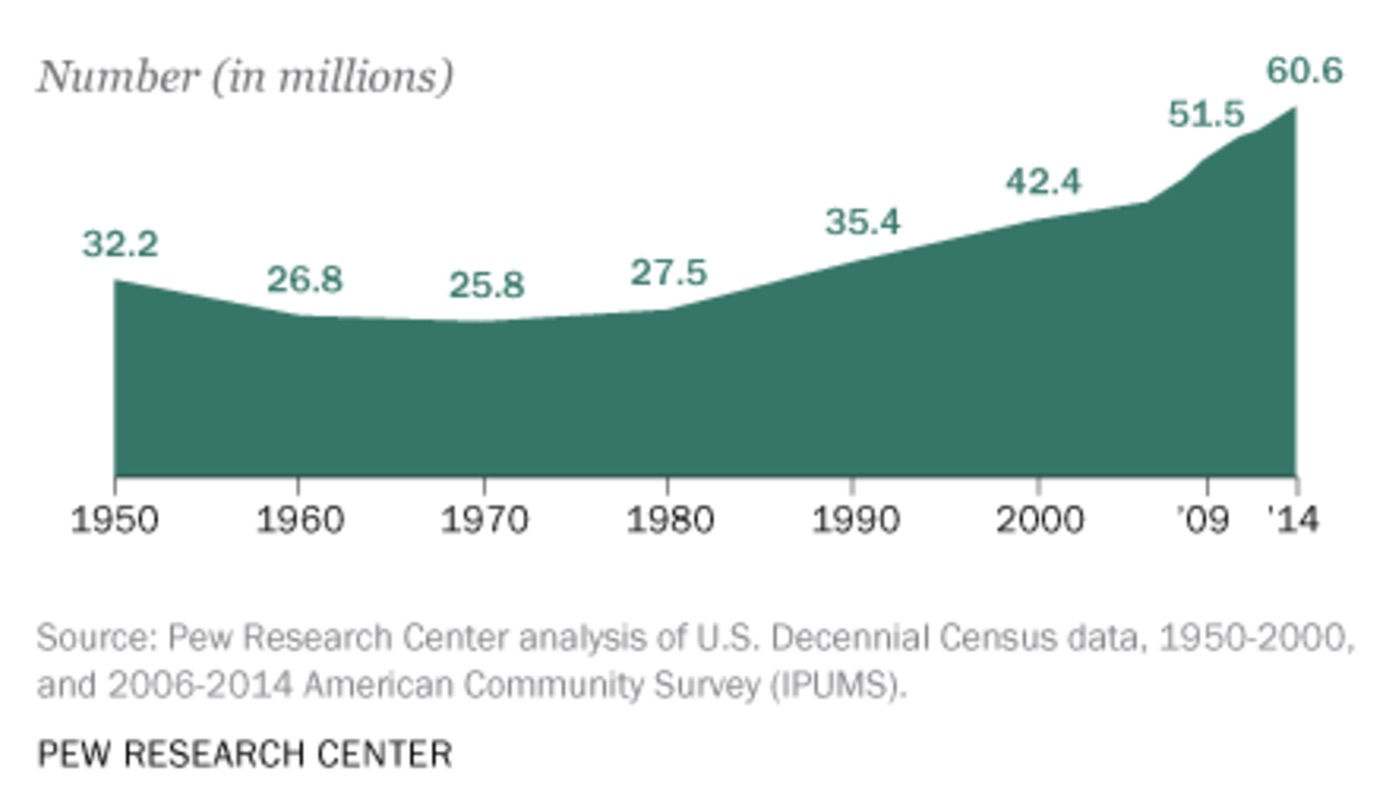 Source: Pew Research Center
Generation X and Millennials are the "bridge markets" between the aging Baby Boomer population and the radically different mindset of Generation Z. The Millennial market has been the most studied, documented and #selfie-chronicled generation of all time. Whereas many seek to understand the mentality and profile the millennials up close, most forget they are yet, a part of the bridge connecting the choices made today to the behaviors and preferences of the future.
Unlike the generations before them, Millennials and Gen X are immersed in modern-day parenting. They face higher demands on time, financial uncertainty and chronic social, political and lifestyle changes. They are also the first generations to raise children in a highly digital age alongside a constant interface with the internet. Despite the challenges of parenting and striving towards well-being and work-life balance, their dedication to multi-task, care-take and provide for their aging parents is stronger than ever.
The Pew Research Center reports "Intergenerational commitments remain strong. "The vast majority, 84% of adults ages 18 to 29 say adult children have a responsibility to provide financial assistance to an elderly parent if he or she needs it." In addition to this, the report also stated, "nearly six-in-ten, 58% say it is very likely that, at some point in the future, they will be responsible for caring for an aging parent or another elderly family member." (2)
While many businesses concentrate on engaging the loyalty of Generation X and Millennials, it's pertinent to concede their purchasing choices are often not their own. Generation Z has a tremendous influence on family spending, brand preferences and family experiences. This generation looks at travel in infinitely different ways than their predecessor parents. Furthermore, they are frequently guiding the decision making for their parents and Baby Boomer grandparents, as well. In my personal experience, as a Gen X mom, raising two Gen Z teens- the input they have can be astounding.
Values
There are always unique expectations and beliefs from one generation to another that shape our perceptions of value. Baby Boomers may opt to travel in search of relaxation, wellness and longevity. While younger generations show a yearning for adventure, new experiences and digital connectivity to the "social-values of the moment."
While there are multiple views on travel, the quest for a sense of empowerment and reprieve, are sentiments shared by many. And freedom is a significant factor for most. Sorting perceived values from core values, can be an invaluable business advantage. Knowing how to activate programs that are intuitive to growth and emphasize intergenerational values, can lend a new dimension to spa and wellness services.
Moreover, programs that have resonance and meaning for the whole family, facilitate great memories and set a lasting impression. These types of programs also create new opportunities to enhance bonding-time between family members and touch upon important things like tradition, health and mindfulness. All of which allows customization to go much further. Moreover, personalizing services not only adds distinct flair it also enhances perceived value.
Great Experiences
Creating spa and wellness initiatives that line up with hotel promotions, is one way to introduce a variety of new experiences. Doing this creates a stronger link between the hotel and the spa overall. For example, by offering spa services that correlate well with hotel celebrations and events this presents new opportunities to capture hotel guests and increase spa engagement.
Trendy spa treatments and wellness inspired topics are excellent ways to build upon current programs. While spa treatments, yoga and massage may appeal easily to some people, making these activities enticing for Generation Z can up participation with curiosity and enthusiasm. Enhancing these programs with elements of grit and fun can help shift the tone.
Another example is, if the hotel operates with a specific theme, advancing the theme into new segments of services and programming can engage a broader spectrum of age groups. These can be introduced as teen-services, family rituals or entertaining services for groups. These services can also be shaped into creative #BFF moments, mom-and-me time and special cultural or intergenerational packages tailored to seasons and time.
Closing the Gap
Spa and wellness programs play an important role as instruments of relaxation, intention, wellness and tradition. Baby Boomers have a different view and appreciation for tradition, habit and nostalgia. Baby Boomers are recognized for their inclination to favor the familiar. As older generations may be in pursuit of relaxation and leisure, younger generations are seeking new opportunities to explore and learn with a sense of journey and freedom.
The opportunity to create unique spa and wellness programs for multi-generational families with a focus on Generation Z is today. This generation is growing and has a significant influence on spending. According to the Nielsen TA Report Q1 2017 (3) "Generation Z is the largest generation, accounting for 26% of all persons in U.S." (Figure two)
Being prepared to support the important lifestyle habits of self-care, mindfulness and well-being are value propositions that have notable long-term worth. Moreover, these various aspects can shine an important light on behavior patterns, promote healthy self-awareness for younger generations and plant seeds of preferences for the future.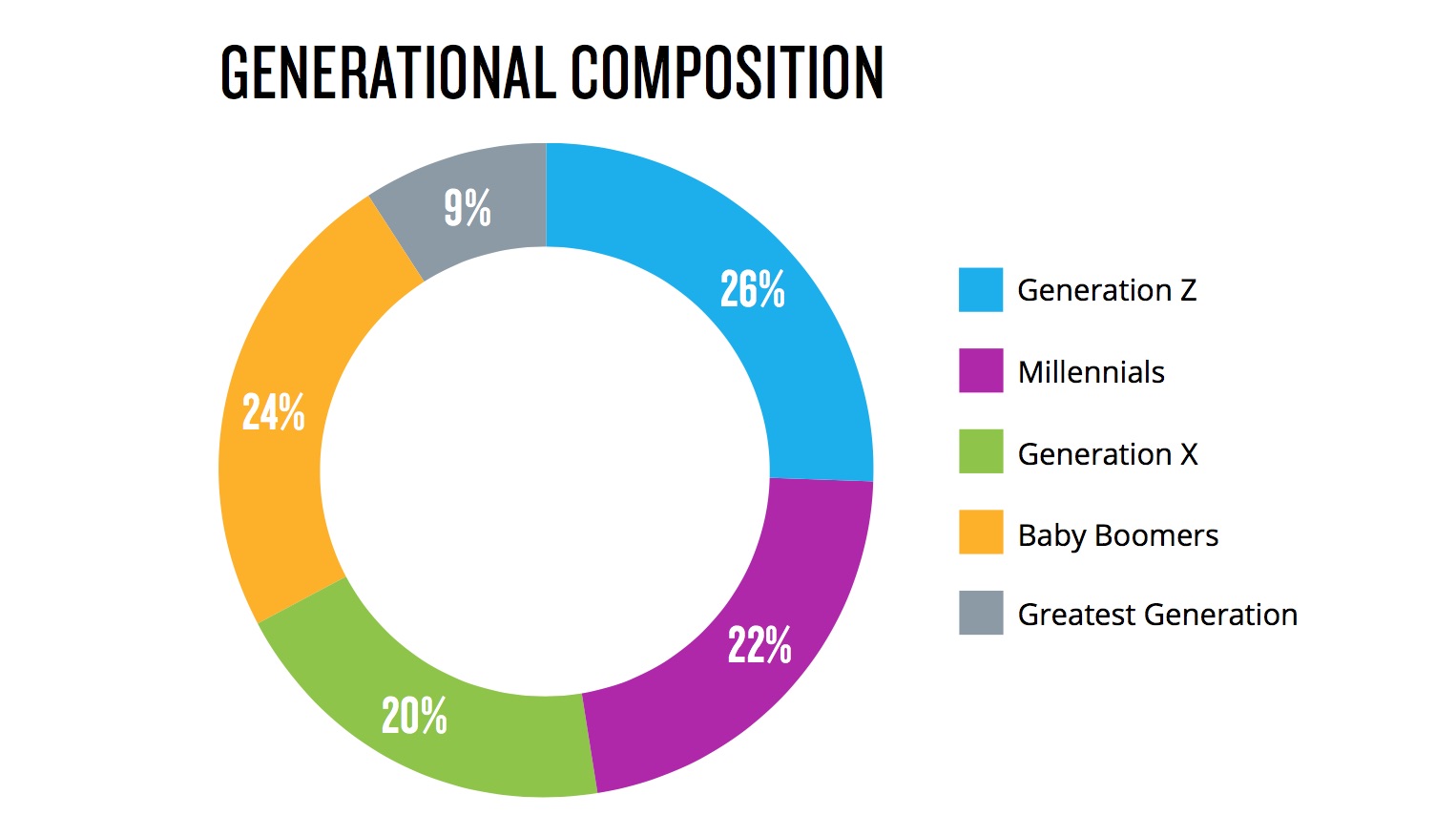 Source: Nielsen Total Audience Report Q1 2017
Empowering Engagement
A recent article on The Next Web (3) shared "Too often brands believe young people are moving more and more online and so their marketing efforts need to become digital and not physical." "Gen Z breaks this Millennial trend however and displays a particular interest in having tangible experiences, interacting face-to-face with brands, and having cool opportunities to post on social media."
Identifying and creating new links between the hotel and spa can promote both the hotel and the spa through extended social media channels via young guests. Platforms like Snapchat and Instagram are popular applications that capture the energy and essence of the moment. Recognizing the power in this and promoting fun opportunities for them to individually and collectively "share" will empower them as guests, inspire program engagement and initiate value and loyalty.
Last Thoughts
The hospitality industry has a unique chance to merge intergenerational values with experiential services focused on building the bond between the hotel and spa and wellness assets. Encompassing the ideals of multiple age groups can diversify engagement and add meaningful value. Ultimately, enriching spa and wellness programs with authenticity through external, intergenerational marketability can create choice, increase joy and strengthen customer loyalty.
Resources
1. http://www.pewresearch.org/fact-tank/2016/08/11/a-record-60-6-million-americans-live-in-multigenerational-households/
2. http://www.pewsocialtrends.org/2012/12/20/the-big-generation-gap-at-the-polls-is-echoed-in-attitudes-on-budget-tradeoffs/
3. http://www.nielsen.com/us/en/insights/reports/2017/the-nielsen-total-audience-report-q1-2017.html
4. https://thenextweb.com/contributors/2017/06/06/build-gen-z-brand-loyalty/#.tnw_MeOq8FgJ